World War II Homefront Era: 1940s: Post War Workers Protest Salary Cuts & Layoffs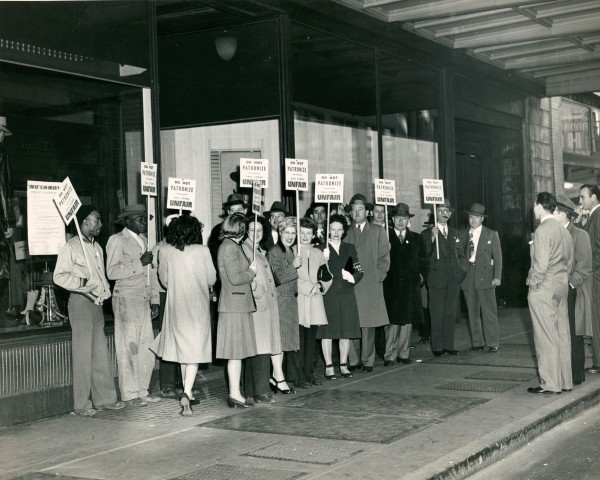 Within two months of the end of World War II, there were more than two million unemployed workers in the U.S., plus reduction of wages and overtime pay. General strikes were called across the country, including the cities of Rochester, New York; Pittsburgh, Pennsylvania, and Oakland, California.
The Oakland General Strike of 1946 was called by a thousand shopworkers, mainly women, who went on strike at two city department stores-Kahns and Hastings-that refused to let workers organize. Teamsters agreed not to cross their picket line. When management brought in scabs (non-unionized workers willing to cross the picket line and work for lower pay), the Alameda County AFL Labor Council announced a general strike in support of the shopworkers. Two hundred workers blocked the stores' entrances. Within 24 hours, more than 100,000 workers had joined the strike, shutting down the East Bay for three days in December 1946. Although the AFL ended the strike abruptly, the retail workers won the right to unionize five months later.