World War II Homefront Era: 1940s: War Vets Protest Housing Shortages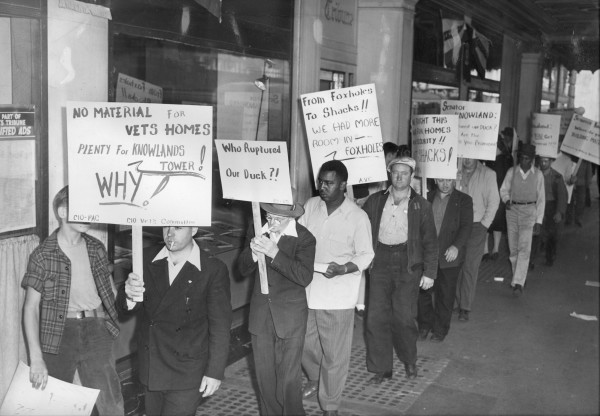 In this 1946 photograph, an interracial group of picketers line the front of the Tribune building-owned by the family of Republican Senator William Knowland. Their protest centers on Knowland's refusal to support low-income housing in the Oakland Hills. As I.L.W.U. and C.I.O. union members understood, minorities had a great need for government-subsidized public housing. The reason was not poverty, but racial discrimination by real-estate agents who would not sell African Americans homes in neighborhoods covered by restrictive housing covenants. The situation was similar in Southern California. In Los Angeles during 1946, African Americans accounted for 7 percent of the city's population, yet filed 46 percent of all the applications for the city's public housing.
Other resources:
Raisin in the Sun, by Lorraine Hansberry, named "Best American Play" by New York Drama Critics in 1959. Film version from 1961 stars Sidney Poitier, and Ruby Dee. Story explores the impact of restrictive housing covenants on an African American family living in the Southside of Chicago.
Internet links:
The Shelly House-background on the 1948 Supreme Court Case against restrictive housing covenants
http://www.cr.nps.gov/nr/travel/civilrights/mo1.htm
National Registrar of Historic Places-Sites of the Civil Rights Homepage
http://www.cr.nps.gov/nr/travel/civilrights/
Fair Housing-the Other Civil Rights Movement
http://www.asu.edu/caed/proceedings97/james.html