Progressive Era: 1890–1920s: Allensworth, Black Pride & Pursuit of Civil Rights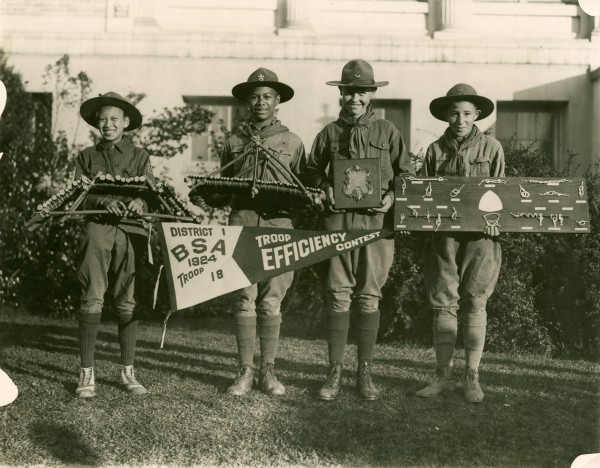 "I had been around here long enough to realize there wasn't very much work Negroes could get….[Black workers could either] go down to the sea in ships or work on the railroads."
- C.L. Dellums, Bay Area resident and vice-president of the Brotherhood of Sleeping Car Porters, recalling job opportunities in the Bay Area in 1923
The smiles on the faces of these four young men show pride in the work they are displaying as winners of the Clausen School Boy Scout competition. In 1924, the entire country's attitude mirrored the smiles on the faces of these boys. The U.S. had just emerged from World War I as a major world power. The country's economy was booming, andCalifornia's as well due to wartime spending on shipbuilding and manufacturing industries. Science and technology were flourishing with constant new developments while literature and culture similarly bloomed.
The young Black men pictured above were growing up in an era in which the enslavement of Blacks was more than two generations in the past, and global Black pride was being promoted by Marcus Garvey and his Universal Negro Improvement Association, among others. The Harlem Renaissance in art, theatre, music, and-of course-literature was in full swing, celebrating the value of Black art and creativity.Blacks were expected to be conscious of their race; to be "race men" and "race women" fighting not just for rights and respect from whites and other races, but also for equal treatment under the law.
At the same time, most of the Southern United States vigorously implemented Jim Crow segregation in an attempt to stifle Black peoples' civil rights. Lynchings and other terrorist tactics were frequently used by Southern whites against Blacks, who continued in their exodus from the rural South to Northern cities. This Black population shift had begun in the 1880s and had picked up speed during World War I as Black men and women were recruited to work in war industries and support services.