Early Statehood: 1850 – 1880s: The Rise of Los Angeles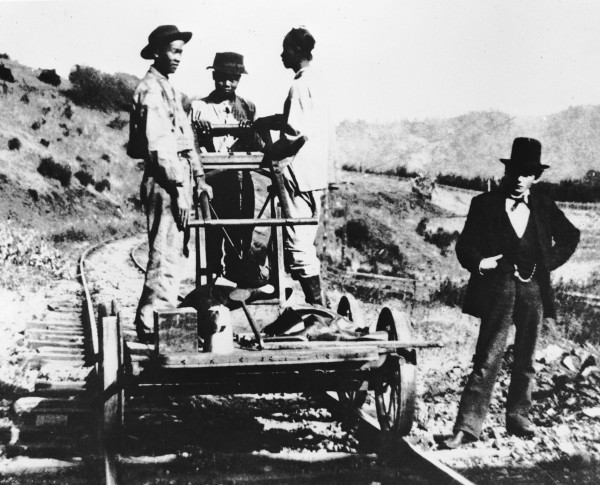 For Chinese immigrants, the Gold Rush and building the railroad were the two main draws to California and the American West. Charles Crocker, one of the owners of the Central Pacific Railroad in charge of building the western end of the Transcontinental Railroad, sent agents to China to recruit workers, who were known for their hard work and cheap labor. In total the Central Pacific employed 12,000 Chinese, who made up 90 percent of the entire work force.
After that job was done, Chinese continued to construct further railroad lines up and down the West Coast and throughout California. Pictured here is a group of three Chinese laborers on top of a handcar on a rail line linking Bakersfield and Los Angeles. They worked for the same Central Pacific Railroad that had originally brought them from China to the United States.
Standards:
4.4 Students explain how California became an agricultural and industrial power, tracing the transformation of the California economy and its political and cultural development since the 1850s. (4.4.1, 4.4.2, 4.4.3)