Suitcase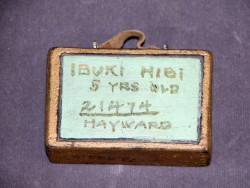 Who would have carried this object? Was this:
Carried by a Japanese American girl to an interment camp
Carried by a California Indian boy on a way to a reservation
Carried by the son on migrant laborers on their way to California
Take a close look at the images below. Which image does this object relate to?
Pick your answer from the choices below. Click an image to see a larger version.